Rejecting Terra Nullius-The Nakba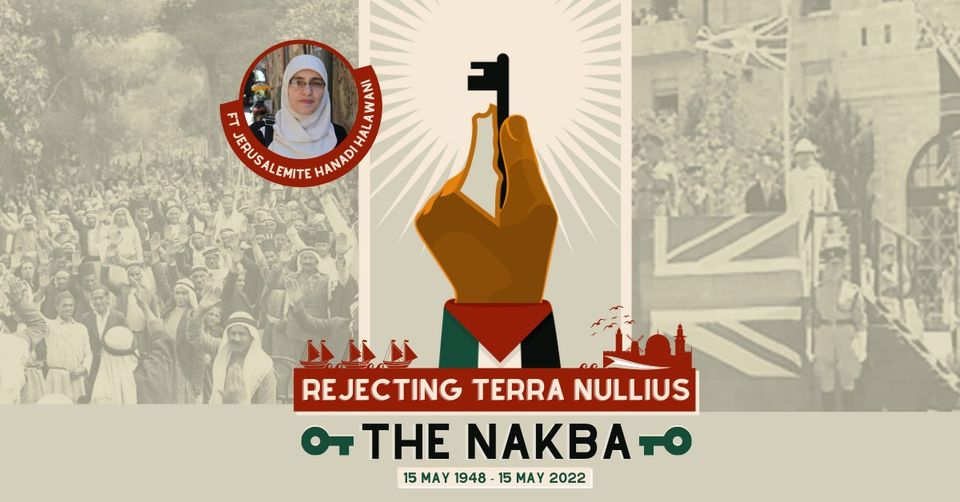 On the 15th of May each year, Palestinians remember the British claim of Terra Nullius and specifically the events in 1948 that saw the illegal displacement and genocide of Palestinians from their ancestral lands and homes, marking a day Palestinians call the 'Nakba' or the Catastrophe.
Join us as we remember our past and understand our current in an enlightening and highly educational evening as we remember the Nakba, tell our stories, educate each other on the Palestinian reality, and understand how the Nakba affected Palestine's culture in its embroidery, folklore, poetry and other arts.
Join us as we cover:
Terra Nullius, the British Mandate and the Nakba
The Nakba beyond 1948
Visiting Palestine
The Palestinian identity
International solidarity and Australia
Palestinian poetry performances and short films
For the young Palestinians growing up in the diaspora away from their homes, and for our non-Palestinian community that see us- this event is for all.
An evening of past, poetry, films and stories, this event is definitely not to miss.
Brought to you by:
Curtin Palestinian Society
Curtin Student Guild
Featuring:
Palestinian Cultural Society of UWA
Palestinian Community of WA
Friends of Palestine WA
Curtin Muslim Students' Association
UWA Muslim Students' Association
Registration closes on the 14th of May.