By Anthony Galloway
Australia has asked Israel to explain why it has designated six Palestinian civil society groups as terrorist organisations after the move was criticised by the United Nations as an attack on human rights.
Australia's embassy in Tel Aviv and the nation's counter-terrorism ambassador Roger Noble have asked the Israeli government for an explanation, including evidence as to why the organisations should be declared terrorist groups.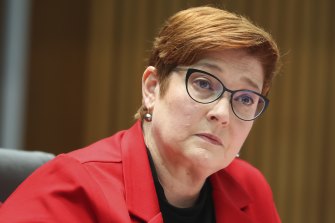 Israel last week said it made its decision based on evidence the six groups were a front for the Popular Front for the Liberation of Palestine (PFLP), which does not recognise the State of Israel and hijacked several passenger aircraft in the 1960s and 1970s.
The Israeli government accused the groups of allegedly financing the terror organisation and having employees who were closely linked to it.
Asked in a Senate estimates hearing by Greens senator Janet Rice whether she was concerned by the designations, Foreign Minister Marise Payne said Australia had asked Israel for an explanation.
"Our post in Tel Aviv has made inquiries to the Israeli Ministry of Defence, which has made the designation, seeking further information," Senator Payne said.
"We have been told that we will be provided with further details in due course, but that has not been the case so far.
"The Australian Ambassador for Counter-Terrorism has reinforced these points to the Israeli embassy this week, so I am seeking further information to determine the purpose of the designations."
Senator Payne said it "isn't unreasonable to seek this information – what the basis of the designation is and to understand the steps the Israeli authorities have taken".
"And then I'll be in a position to inform actions going forward," she said.
The US State Department last week raised concern it had not been given notice before Israel made the announcement, adding it believed "respect for human rights, fundamental freedoms, and a strong civil society are critically important for responsible and responsive governance".
The German foreign ministry said it was "very concerned by the Israeli decision" and it would have "broad political, legal and financial implications" for the groups.
UN human rights chief Michelle Bachelet said the decision would have "a chilling effect" on human rights defenders and it was an attack on freedoms of association, opinion and expression and the right to public participation.
Under Israeli law, jail time is mandated for members of designated terrorist groups as well as their supporters.
Ran Porat, a research associate with the Australia/Israel & Jewish Affairs Council, this week said the decision was warranted based on the groups' direct affiliation with the PFLP.
"The close PFLP links of these groups have become increasingly clear internationally in the past few years, and acknowledged by governments," Dr Porat said. "In many cases, arrests were made and trials were held where officials and employees of these groups were found guilty of terror-related activities."
Bishop George Browning, president of the Australia Palestine Advocacy Network, said it was "outrageous" that Israel launched a direct attack on "six key, internationally recognised, reputable organisations".
"Not only are Palestinians having to defend their human rights, but their very advocacy for human rights is being criminalised," he said. "This arbitrary decision is only possible due to the ongoing military occupation of the West Bank, and further entrenches the apartheid system against Palestinians."
In a joint statement this week, Australian human rights advocates, aid groups and the Australian Council of Trade Unions claimed the move was "designed to criminalise, persecute, and silence" Palestinian civil society and human rights defenders.