By Natassia Chrysanthos and Carrie Fellner
The Palestinian Authority's representative in Canberra has called on the Albanese government to take an active role brokering peace in the Middle East after the outbreak of war between Hamas and Israel.
Izzat Abdulhadi's comments followed Prime Minister Anthony Albanese's condemnation of attacks on Israel by militant Palestinian group Hamas at the weekend as abhorrent as he asserted Israel's right to defend itself.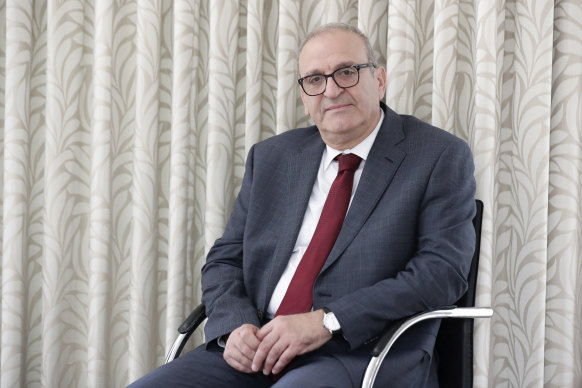 "Of course people are worried about escalation, but Israel has a right to defend itself and it will be doing so. This is an attack on Israel by Hamas that has no precedent," Albanese said on Sunday.
He did not repeat a call, made by Foreign Minister Penny Wong in a statement on Saturday night, for the exercise of restraint and protection of civilian lives.
Opposition Leader Peter Dutton also condemned Hamas' attack as a deliberate act of violence that had provoked Israel, which he said had every right to defend itself in response. However, he did not repeat criticism of Wong's statement by Liberal MP Michael Sukkar, who said the call for restraint was "unbelievable".
Greens foreign affairs spokesman Jordon Steele-John said he rejected all violence against civilians and called for an immediate ceasefire between Israel and Hamas.
"For there to be peace there must be an end to the state of Israel's illegal occupation of the Palestinian territories," he said.
Israeli Prime Minister Benjamin Netanyahu declared war against Hamas on Saturday following a barrage of thousands of rockets from the Gaza Strip and unprecedented ground attacks on towns in southern Israel that left at least hundreds dead. Hundreds of Palestinians in Gaza were also killed in retaliatory strikes from Israel, local authorities reported.
On Sunday, fighting spread to the country's north, where the Israeli military said it was responding to mortar fire from within Lebanon with artillery fire.
Abdulhadi, who represents the Palestinian Authority, which operates in the West Bank and is not affiliated with Hamas in Gaza, described the Australian government's response to the violence as disappointing and regrettable.
"It's not enough just to provide condemnation … without an active leadership role in solving the problem," he said. "It's 75 years now of suffering of Palestinian people. Nobody listens."
Jewish groups in Australia said the Hamas attacks had been horrific and warranted unequivocal condemnation from world leaders, as their communities reeled from the violence during a Jewish holiday.
Alex Ryvchin, co-chief executive of the Executive Council of Australian Jewry, labelled the reports of shootings and abductions of civilians egregious war crimes.
"Any calls for de-escalation by 'both sides' or attempts to draw equivalences between the crimes of a terrorist organisation and the defensive measures of a sovereign and democratic state are misconceived and only play into the hands of the terrorists," Ryvchin said.
Abdulhadi, however, said it was impossible to view the weekend's events outside their historical context. He also called on Australia to join an international effort to guarantee a ceasefire before more Palestinian and Israeli civilians lost their lives.
"I think Australia has this capacity to work closely with the two parties, especially because they don't have colonial history in the region. They'd have respect in this region, and they can play a constructive role, more than just these repetitive statements of condemnation of Palestinians and [about the] self-defence process of Israel," he said.
"Of course, we are totally against the killing of civilians, from both sides. And I hope the international community will realise this, and see that the most important thing is to protect the Palestinian people who are under occupation."
The Australia/Israel & Jewish Affairs Council's executive director, Colin Rubenstein, said the attack could have been motivated by Hamas' concern at progress being made in negotiations between Israel and Saudi Arabia.
"Any prospect of peace is anathema to Hamas and the rogue Iranian regime which sponsors, arms and directs it," Rubenstein said.
NSW Jewish Board of Deputies president David Ossip said it was a dark day for Israel and Jewish people around the world after the slaughter, kidnapping and torture of Israeli civilians in their homes and on the streets.
"Israel deserves the full support of Australia and the international community as she defends herself against the evil and barbarity of Hamas," Ossip said.
Nasser Mashni, president of the Australia Palestine Advocacy Network, said Hamas' attack was a "clear result of Israeli escalation" and followed a 16-year blockade of Gaza that has isolated Palestinians who live there from the rest of the world.
He said Western leaders, including Albanese, had ignored injustices perpetrated against Palestinians in their rush to affirm Israel's right to defend itself, and called for an immediate end to Israeli attacks.
"The glaring hypocrisy and double standard applied by the Western media and politicians, who celebrate the heroism of the Ukrainian resistance against Russia yet condemn the Palestinians for using the same tactics, is why we're here today," Mashni said.