By Adam Gartrell
Business and religious leaders, lawyers, academics, entertainers and former politicians have joined forces to oppose Israeli Prime Minister Benjamin Netanyahu's visit to Australia, saying his policies "provoke, intimidate and oppress" the Palestinian people and are pushing the Middle East further from peace.
Mr Netanyahu's visit comes just weeks after his government passed a controversial law retroactively legalising 4000 settlers' homes built on privately owned Palestinian land. The measure has drawn international condemnation and reignited debate about Australia's approach to Israel.
President Donald Trump and Israeli Prime Minister Benjamin Netanyahu held a joint press conference at the White House on Wednesday. Trump encouraged a peace agreement between Israel and the Palestinians.
It also comes just days after US President Donald Trump appeared to upend decades of policy on the Israel-Palestine issue by suggesting peace could be achieved through a one-state rather than two-state solution.
Mr Netanyahu will meet Prime Minister Malcolm Turnbull, Opposition Leader Bill Shorten, NSW Premier Gladys Berejiklian and other leaders during his four-day visit – the first by a serving Israeli prime minister since the state was formed in 1948 – starting on Wednesday.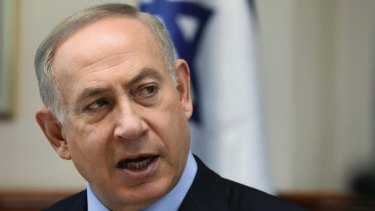 But in a joint statement, 60 prominent Australians – from businesswoman Janet Holmes à Court and former Federal Court judge Murray Wilcox, to retired Anglican ishop George Browning and Harry Potter actress Miriam Margolyes – say Mr Netanyahu's policies contravene international law.
"Mr Netanyahu's policies consistently aim to provoke, intimidate and oppress the Palestinian population which increase that imbalance, thus taking Israel irretrievably further from peace," the statement, organised by the Australia Palestine Advocacy Network, says.
"These policies are inconsistent with Australian values and beliefs and we should not welcome him here."
Bishop Browning said Mr Netanyahu "deserves a red card, not a red carpet".
The letter – also signed by former solicitor-general Gavan Griffith and several silks – says his government's policies "build understandable resentment, anger and desperation amongst Palestinians" and calls on the Turnbull government to "rethink its one-sided support" for Mr Netanyahu.
The Coalition under both Mr Turnbull and has predecessor Tony Abbott has been a strong supporter of Israel. The government last year criticised a United Nations Security Council resolution that condemned Israeli settlements in the West Bank and East Jerusalem, with Mr Turnbull describing it as "deeply unsettling".
Foreign Minister Julie Bishop indicated the government would have split with the US and New Zealand to vote against the resolution, if it currently had a seat on the UN Security Council.
New Zealand's support for the resolution drew a furious diplomatic response from Israel, which recalled its ambassador.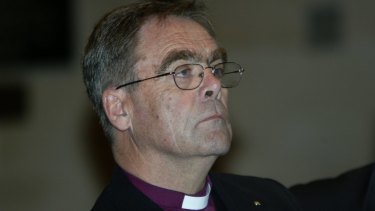 Mr Netanyahu – who reportedly described it as a "declaration of war" – is not going to NZ during this week's visit to the region.
The open letter is also signed by five former Labor parliamentarians, including former ACT chief minister Jon Stanhope and federal MPs Alan Griffin, Melissa Parke, Jill Hall and Laurie Ferguson.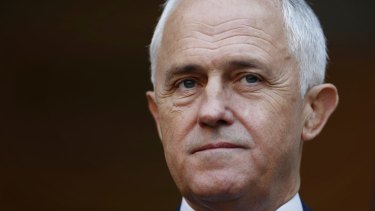 While Mr Shorten is also supportive of Israel, Labor's Left is increasingly supportive of Palestine. Former Labor prime minister Bob Hawke intervened in the debate this month, saying it was time for Australia to join nearly 140 other countries and recognise Palestine's statehood. Normally pro-Israel, Mr Hawke slammed the settlement legislation, saying it would trash hopes for peace.
Labor's foreign affairs spokeswoman Penny Wong said this month Labor opposed the "counterproductive" settlements bill, describing it as another "roadblock to peace".
The legislation was backed by Mr Netanyahu's right-wing coalition but it may end up proving largely symbolic, with concerns it contravenes the Israeli constitution and Supreme Court rulings.
Mr Trump this month declared during a press conference with Mr Netanyahu he would support whatever solution both parties agreed on, whether it was one state or two.
Mr Turnbull subsequently said: "Our position has not changed. Our position is that there should be a two-state solution negotiated between Israel and the Palestinian Authority."
Mr Netanyahu and Mr Turnbull are set to discuss Palestine, Iran's nuclear program, the war in Syria and cyber-security. They will also discuss two-way trade, currently valued at about $1.1 billion.
The joint statement comes ahead of planned protests in Melbourne, Sydney and Canberra. Comment has been sought from the Israeli government.