By Andrew Tillett
Australia is at odds with Donald Trump over recognising Jerusalem as Israel's capital, with Foreign Minister Julie Bishop saying the Holy City's final status must be determined through negotiations between Israelis and Palestinians.Ms Bishop also reaffirmed that Australia would keep its embassy in Tel Aviv instead of following Mr Trump's lead and moving it to Jerusalem.

In a widely-anticipated announcement, Mr Trump is expected to declare on Wednesday (US time) that America would recognise Jerusalem as Israel's capital, upending 70 years of diplomatic policy. He is expected to commit to moving the US Embassy to Jerusalem although he will sign a national security waiver for another six months to keep it in Tel Aviv.
Arab leaders have warned that such provocative moves would damage prospects of a peace deal between Israelis and Palestinians, and inflame sentiment in Muslim countries.
The dispute over Jerusalem is one of the most contentious roadblocks to a peace settlement. Israel has much of its government machinery in West Jerusalem and claims the undivided city as its capital. Palestinians hope to make East Jerusalem – which was captured by Israel in 1967 – the capital of their own nation.
Despite Australia's alliance with the US and strong historical support for Israel – including a warm relationship between Malcolm Turnbull and Israeli counterpart Benjamin Netanyahu – Ms Bishop has ruled out following Mr Trump.
"Matters relating to Jerusalem are subject to Final Status negotiations between Israel and the Palestinian Authority," she said.
"Australia supports a two-state solution, where both peoples live within secure and internationally recognised borders."
Earlier this year, Ms Bishop told Jewish community groups that, while she was open to having Australia diplomats based in Jerusalem, the embassy would not be moved.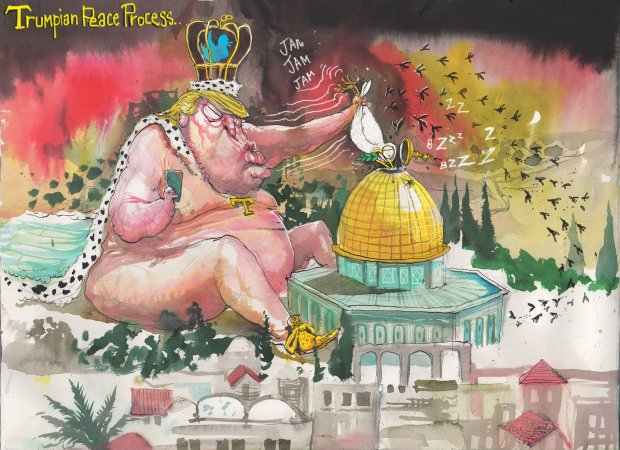 She said on Wednesday that any decision regarding the location of US embassies was a matter for the US.
"The Australian Government will continue our diplomatic representation to Israel from our embassy in Tel Aviv, and our representation to the Palestinian Authority from our office in Ramallah," she said.
But Jewish groups said Australia should follow the Trump administration's lead.
The Executive Council of Australian Jewry said Mr Trump's foreshadowed announcement was a "pragmatic acknowledgement of an existing reality", pointing out officials and dignitaries from most countries met Israeli officials in Jerusalem.
"Recognition of Jerusalem as Israel's capital therefore formalises what has long been recognised de facto by most other countries," executive director Peter Wertheim said.
Relocating embassies to West Jerusalem, which has been part of Israel's sovereign territory since 1948, did not pre-empt the outcome of negotiations for a two-state solution, nor did recognising Jerusalem as Israel's capital prevent predominantly Arab neighbourhoods in East Jerusalem being designated Palestine's future capital as part of a peace deal.
"We urge the Palestinian leadership to face up to the failure of its strategy to try to extract concessions from Israel through international pressure rather than through face-to-face negotiations," Mr Wertheim said.
But the Australian Palestine Advocacy Network said Mr Trump's planned announcement "throws a match into the tinder-box of Palestinian frustration".
"Trump's decision is a unilateral move of interference that shows complete disregard for the foundations of peace negotiations," APAN president George Browning said.
"The right-wing extremists have taken over Israel and the White House. Australia must stay with the international consensus and keep our embassy in Tel Aviv."