By James Massola and Matthew Knott
Labor will seek to avert a damaging internal split over the Israel-Palestine conflict by hardening its language on the Palestinian territories, with the federal government to officially refer to Israel's settlements in the West Bank as "illegal" and the territories as "occupied".
Foreign Minister Penny Wong announced the shift in Tuesday's caucus briefing for Labor MPs, prompting the opposition to accuse her of showing more concern for factional tensions than international diplomacy.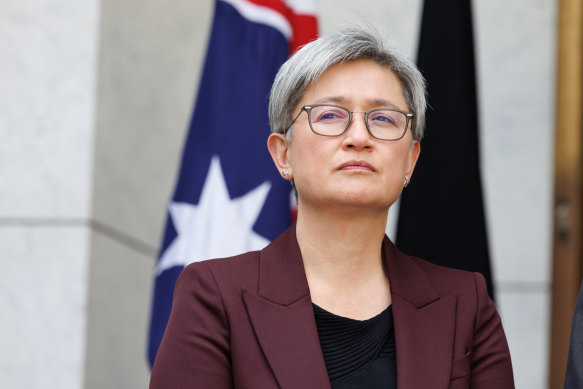 The news was condemned by pro-Israel groups as one-sided, while Palestinian advocates celebrated the move but pressed Labor to go further.
The decision comes less than two weeks before Labor's national conference, an event some party activists hope to use to strengthen Labor's policy platform commitment to Palestinian statehood.
The government also announced that it would recall parliament for debate whenever Australia goes to war and establish a powerful new committee to scrutinise the Australian Defence Force and Defence Department.
Defence Minister Richard Marles said that, under new reforms announced on Tuesday, the decision to engage in an overseas conflict will remain with executive government but will now require parliament to be recalled for debate on the ramifications.
Wong said the government was "gravely concerned about alarming trends that are significantly reducing the prospects of peace" between Israel and Palestine.
"The Australian government is strengthening its opposition to settlements by affirming they are illegal under international law and a significant obstacle to peace," she told parliament.
Wong said the decision brought Australia into line with the United Kingdom, New Zealand, and the European Union, adding she had briefed the Israeli ambassador on the issue because Australia remains "a committed friend of Israel".
Opposition foreign affairs spokesman Simon Birmingham said that the government's decision had "everything to do with managing factional differences ahead of their national conference and nothing to do with advancing a lasting two-state outcome".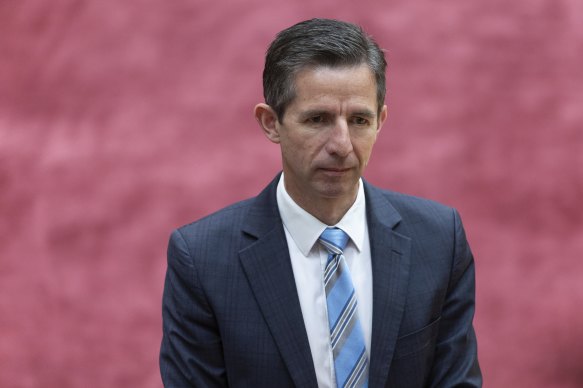 "It's clear the Albanese Government is undertaking more consultation with factional bosses than with those impacted by these changes, including the Israeli Government," he said.
Colin Rubenstein, executive director of the Australia/Israel & Jewish Affairs Council, said the government's new stance was "one-sided" and rewarded "destructive Palestinian tactics".
"This decision will make it extremely difficult for Australia to present itself as a credible and effective advocate for a two-state peace," he said.
"The Government's stance strains our long-standing bipartisan national policy of supporting a negotiated two-state peace and is detrimental to Australia's national interests."
Nasser Mashni, president of the Australia Palestine Advocacy Network, welcomed the change as a "sensible, modest move by the Australian government".
"Israeli settlements are in clear violation of international law and there is no doubt that Israel is occupying Palestinian lands," he said.
"We look forward to the government taking the next step and honouring its commitment to recognise Palestine."
In July, Wong and the foreign ministers of Canada and the UK condemned Israel's expansion of settlement building in the West Bank but did not label the move illegal.
Wong has also previously referred to the Palestinian territories in official statements rather than the occupied Palestinian territories.
Past governments referred to the Palestinian territories as occupied but the Abbott government began describing them as "disputed territories" in 2014.
Labor's party platform calls on the government to recognise Palestine as a state, but the government has so far given no indication that it will enact the policy.
Some activists in Labor's national policy forum have attempted to strengthen the existing commitment by binding the party to recognise Palestine in a certain term of government, but Prime Minister Anthony Albanese has stressed in internal forums that he did not want specific timeframes inserted into the platform for controversial issues.
Former Labor foreign minister Bob Carr, a strong advocate of Palestinian recognition, welcomed the government's change in language as moving Australia to the international mainstream.
"I expect national conference will reaffirm its commitment to recognise Palestine as the one way to salvage the two-state solution," he said.
Wong last year infuriated the Israeli government and Jewish groups by announcing that Australia would no longer recognise West Jerusalem as Israel's capital, reversing a controversial decision by the Morrison government.
A new joint parliamentary committee will be set up to oversee the sprawling Defence department, which will be similar to the powerful Parliamentary Joint Committee on Intelligence and Security, with membership of the committee to be appointed by the prime minister.
The move is part of a formal response to a committee, led by Labor MP Julian Hill, that looked at whether there was sufficient oversight of the process needed to take Australia to war. Legislation to establish the committee will be introduced later this year.