By Rebecca Borg, Erin Constable and Shannon Deery
A Palestinian leader has hit back at the Zionist group who tried to cancel a Gaza vigil in the city on Friday night.
Australian Palestine Advocacy Network (APAN) president Nasser Mashni also vowed to continue flying Palestinian flags in Federation Square, which are understood to be flown at this time of year to celebrate Palestinian National Day.
The flags were draped on flagpoles opposite Flinders St train station while another Palestine flag was spotted hoisted alongside an Australian, Aboriginal and Torres Strait Islander flag across from the Transport Hotel Bar.
"They wanted to continue our division and they are committed to making us feel excluded," he said.
"Our flags will continue to fly in Federation Square and the flags will be there next year".
His remarks follow pro-Israel supporters lashing out after the nine flags were seen hoisted at the city landmark on Friday, in a move some have described as "abhorrent".
Minister for Multicultural Affairs Ingrid Stitt called for a pause in hostilities for aid to be allowed into Gaza.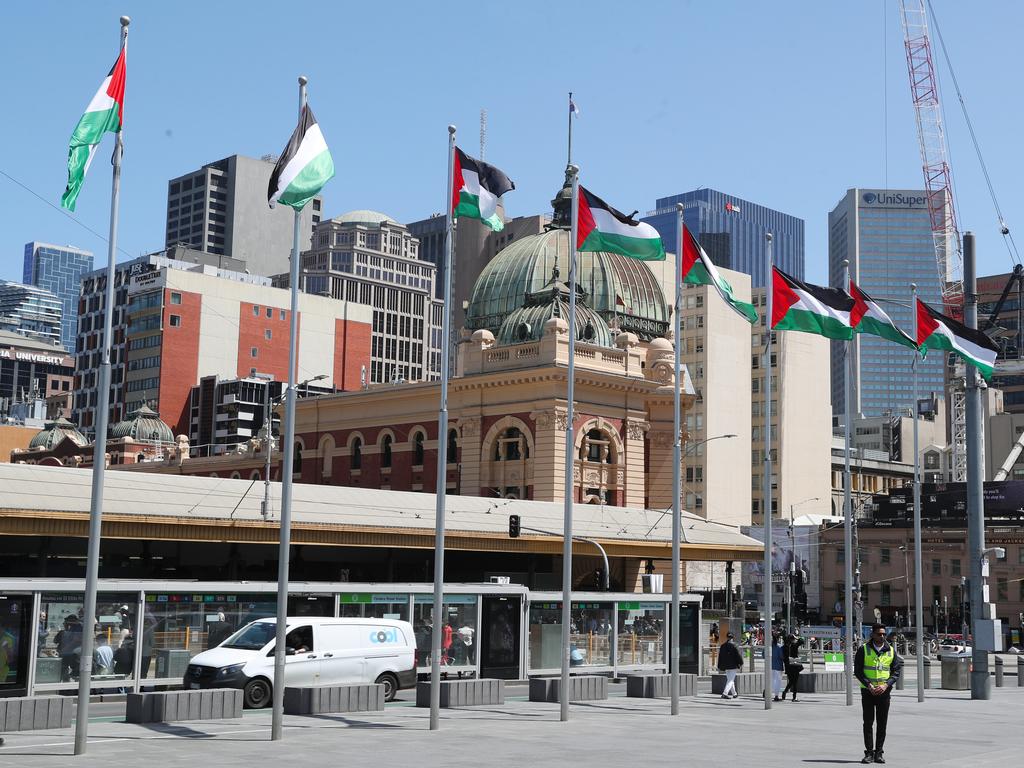 Several Palestine flags were observed flying over Federation Square on Friday. Picture: David Crosling
"Even in these challenging times we must promote peace and empathy between our diverse communities in Victoria."
More than 500 people attended a vigil to mourn the thousands of people killed in Gaza in the Israel-Hamas war on Friday night.
Mr Mashi told the crowd the vigil is not the time for chants after a "free free Palestine" chant echoed through the crowd.
Attendees at the vigil held up signage, Palestinian flags and wore the Palestinian keffiyeh.
"End the genocide in Gaza," read one sign.
"Palestinian children deserve peace," said another.
Images of slain Palestinian children were projected on the big screen above the Federation Square stage.
One attendee, Bruce called for the Australian government to do something about it the slaughter of children in Gaza.
"Three thousand children killed in horrific violence," he said.
"It needs to stop, innocent people are being killed."
Earlier Dalya Sabawi, Palestinian-Australian community member from Gaza and Casey Friends of Palestine spokesperson, said the Australia Palestine Advocacy Network was responsible for the flags and had booked the flagpoles late last year.
"Every part of our community has been touched by the Israeli aggression on the people of Gaza in some way," Mr Sabawi said.
"Some people have family unaccounted for, or relatives and friends killed in the bombings. Tonight's vigil is a time for us to come together, reflect and grieve for our loved ones and to support each other."
During the vigil, three members of the Palestinian-Australian community will speak, with music, candles and performances to also take place.
"It's an important time for members of the Palestinian community in Victoria to have their voices heard, as they honour and grieve for family and friends, and call for a ceasefire and an end to the war crimes being perpetrated against the people of Gaza," Mr Sabawi said.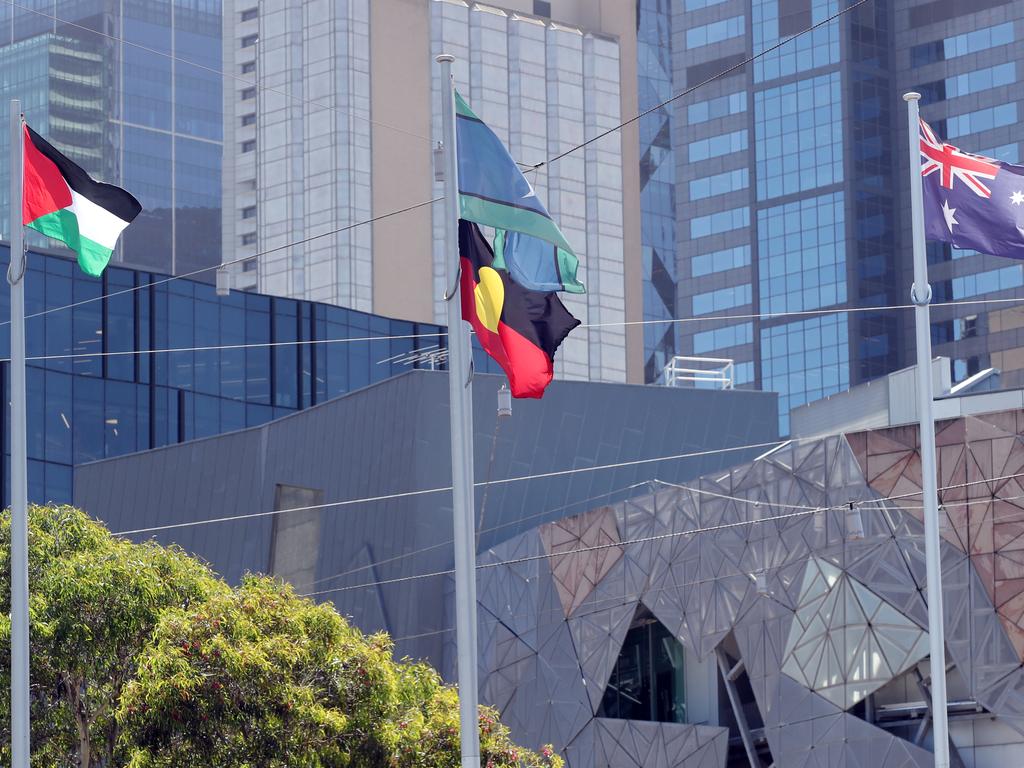 Another flag was also hoisted near an Australia, Aboriginal and Torres Strait Islander flag. Picture: David Crosling
However, the presence of the flags has angered members of the Israeli community who have called on Federation Square management to take them down.
Leading advocacy group for Australia's Jewish community Australian Jewish Association CEO Robert Gregory compared the sight to scenes observed in the Holocaust.
"The management at Federation Square has chosen to celebrate the largest massacre of Jews since the Holocaust by flying the flag in whose name they were murdered at Fed Square.
"This is the equivalent of flying the Nazi flag after Kristallnacht, the Japanese flag after Pearl Harbour or the Taliban flag after September 11.
"They have shown complete disrespect to the Jewish community and to the victims of these atrocities and whoever is responsible for this decision must resign."
Meanwhile, David Southwick, Member for Caulfield, said everyone has a right to peaceful protests but in the current "tumultuous" climate it needs to be done safely.
"After weeks of hateful protests and increased anti-Semitic activity, Melbourne's Jewish community haven't felt safe in their own homes, let alone Melbourne's CBD," he said.
"With so many in the Jewish community living on the edge these mistakes cannot happen in the future."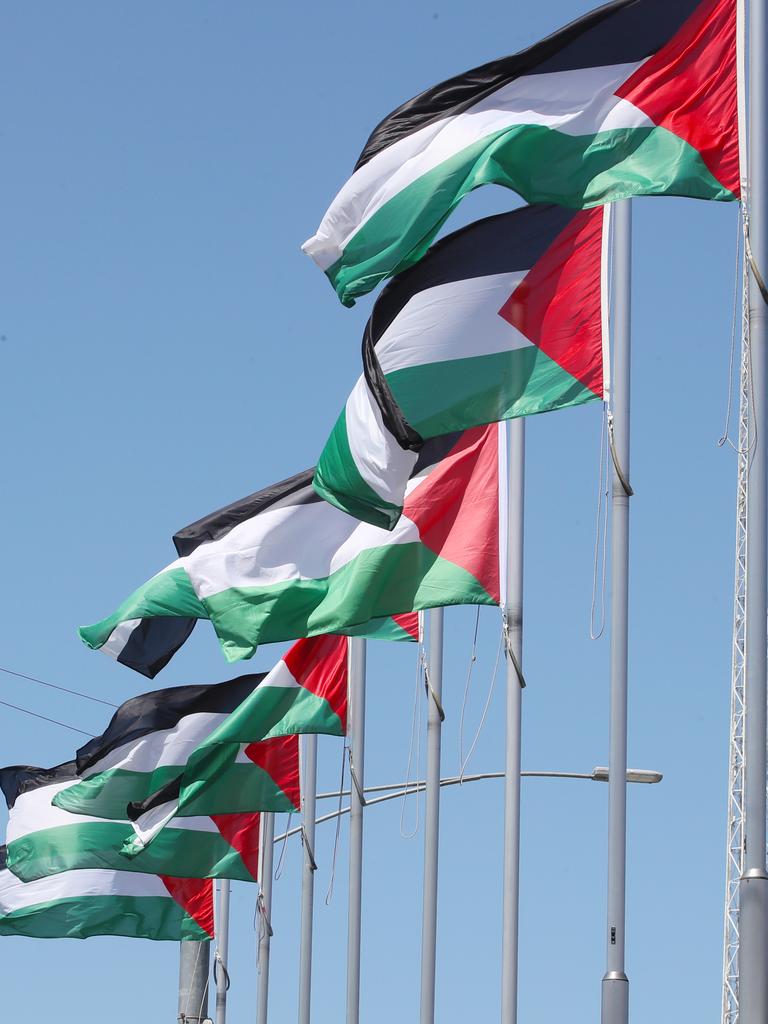 Their presence has angered the Israel-Australian community in light of the Israel-Hamas war. Picture: David Crosling
Some Israel community spokespeople are calling on Federation Square management to take the flags down. Picture: David Crosling
Yossi Goldfarb, President of Zionism Victoria, said Federation Square's management should carefully assess everyone's right to have a Voice as the day unfolds.
"Especially during these troubled times it's always challenging to balance people's right for freedom of expression with considerations of community sentiment," he said.
Lord Mayor Sally Capp said Federation Square was responsible for the flying of Palestinian flags at the landmark today.
"Melbourne is a multicultural city and we recognise that many in our community are impacted by the conflict in the Middle East," she said.
"We encourage everyone in Melbourne to continue showing care and respect for each other during this time."
A spokesperson for the council also said it has no control over the flags flown at Federation Square and is not organising, funding or supporting the pro-Palestinian event to be held on Friday.
A Victorian government spokeswoman said Federation Square was hired by diverse Victorian community groups for a range of events from celebratory to commemorative.
"What has unfolded in Palestine and Israel is deeply distressing for many in Victoria and it is important that we maintain respect for each other, reaffirming that Victoria stands together, with all communities and all Victorians who are impacted by this conflict," she said.
The Herald Sun has contacted the Melbourne Arts Precinct Corporation for comment.