May 2021 | Supporting Australians to show solidarity during Israeli assaults
In May, Israel's threatened forced evictions of Palestinians in Sheikh Jarrah and subsequent military attacks on Gaza, triggered the largest wave of solidarity for Palestine in Australia's history.
APAN launched a campaign calling on the Australian Government to demand Israel stop the bombings.  In just two weeks, over 20,000 people joined this campaign, the largest campaign by order of magnitude that we have ever facilitated.
APAN used this expanded platform to promote solidarity actions around Australia.   We produced social media tiles, and promoted events through emails and press releases.  APAN staff also provided practical support to people organising both large and small events around Australia, many for the first time. A record 11 cities and towns hosted protest events, with crowds in Sydney and Melbourne of over 20,000.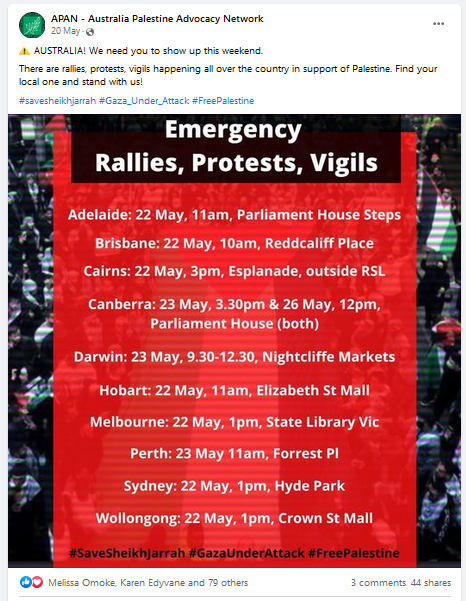 May 2021 | Ensuring Palestine heard in the media
During the attacks on Gaza, APAN secured a range of significant media interviews, with both APAN and supporters.  SkyNews undertook two TV interviews with APAN Vice President, Nasser Mashni, as well as interviews with Fayrouz Sharqawi from Grassroots Jerusalem.  APAN organised for two guests to appear on RN Breakfast directly from Gaza, Dr Haider Eid from Al Aqsa University and Haneen Wishah Hadeel from Al Awad Hospital.  
There was also a range of pieces printed, including in the Sydney Morning Herald and the Guardian.   
May-June 2021 | Parliamentary support for Palestinian human rights
In May and June 2021, APAN asked parliamentary supporters to stand up for Palestinian human rights. There were 23 speeches in Federal and State parliaments discussing Australian Palestinian Nakba Stories, and condemning violence against Palestinian in Gaza and the West Bank. These videos were widely shared on social media.  Click here to watch all speeches