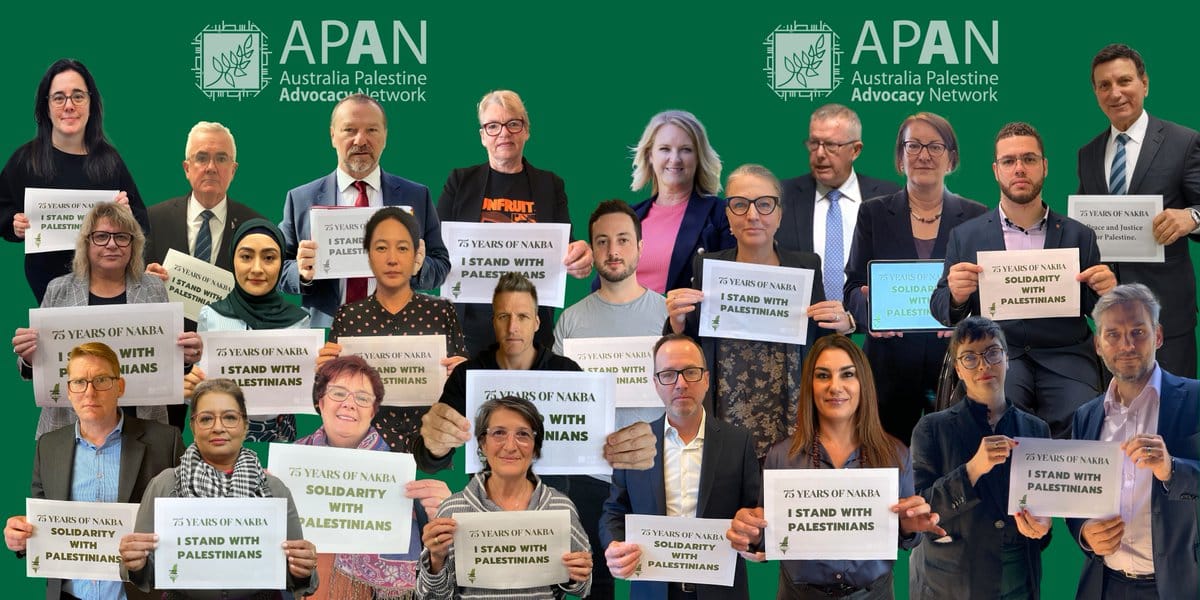 Last week Palestinians marked 75 years of Nakba.
We asked parliamentarians to show solidarity – and a record breaking 26 did!  Some made speeches, others posted on their social media; others sent us a photo with a solidarity message.
Right wing groups are attempting to shame these parliamentarians for standing with us – but lets tell them they're on the right side of history.
Your email will be sent to:
Senator Penny Allman-Payne, Greens Senator for Queensland
Mr Stephen Bates MP, Greens Federal Member for Brisbane
Mr Michael Berkman MP, Greens State Member for Maiwar in Queensland
Mr Mark Coulton MP, Nationals Federal Member for Parkes
Mr Anthony D'Adam MLC, Labor State Member in New South Wales
Senator Mehreen Faruqi, Greens Senator for New South Wales
Ms Ella Haddad MLA, Labor State Member for Denison, Tasmania
Ms Bronwyn Halfpenny MP, Labor State Member for Thomastown, Victoria
Ms Jenny Leong MP , Greens State Member for Newtown, New South Wales
Ms Amy Macmahon MP, Greens State Member for South Brisbane, Queensland
Senator Fatima Payman, Labor Senator for Queensland
Mr Graham Perrett MP, Labor Federal Member for Moreton Queensland
Hon Mr Tony Piccolo, Labor State Member for Light, South Australia
Ms Irene Pnevmatikos MLC, Labor Member of the South Australian parliament
Senator Louise Pratt, Labor Senator for Western Australia
Senator Janet Rice, Greens Senator for Victoria
Senator David Shoebridge, Greens Senator for New South Wales
Senator Jordon Steele-John, Greens Senator for Western Australia
Ms Susan Templeman MP, Labor Federal Member for Macquarie
Senator Lidia Thorpe, Independent Senator for Victoria
Ms Kylea Tink MP, Independent Federal Member for North Sydney
Senator Anne Urquhart, Labor Senator for Tasmania
Ms Maria Vamvakinou MP, Labor Federal Member for Calwell
Mr Andrew Wilkie MP, Independent Federal Member for Denison
Mr Josh Wilson MP, Labor Federal Member for Fremantle
Mr Tony Zappia MP, Labor Federal Member for Makin