By Jordan Baker, James Massola and Lachlan Abbott
On news from Australian officials that they would both be allowed to escape Gaza, Australian Abdallah Dahalaan and his wife, Samah, braced for the horrors they would see on their short but treacherous trip to the Egyptian border.
Bombs falling. People sleeping on the street. Hungry children looking for food. "There's no way to describe it, really," Dahalaan said. "There is destruction everywhere."
They arrived at the barbed-wire crossing to find a chaotic mess of cars, donkeys and throngs of people desperate to flee. As two of the 350 foreigners allowed passage, they moved to the front. Dahalaan, an Australian citizen, was told he could go through.
His wife, an Australian visa holder, was told she could not.
Dahalaan, 77, had to make an agonising decision; to return home to his children, or stay with his wife. He stayed.
"I want my kids to understand that I couldn't leave my wife behind," he told this masthead on an intermittent phone line from Gaza. "Their father had to do the right thing."
Twenty-six Australians, 10 of them children as young as one and two years old, were on the list of those allowed to leave. Many had been told to go to the Rafah crossing several times in the past few weeks, only to be turned away after waiting all day with little food and water.
This time they were not disappointed. Australian officials on Thursday confirmed that 20 Australian citizens, one permanent resident and two family members, had made it out of the chaos to the safety of the Sinai Peninsula in Egypt's north-west.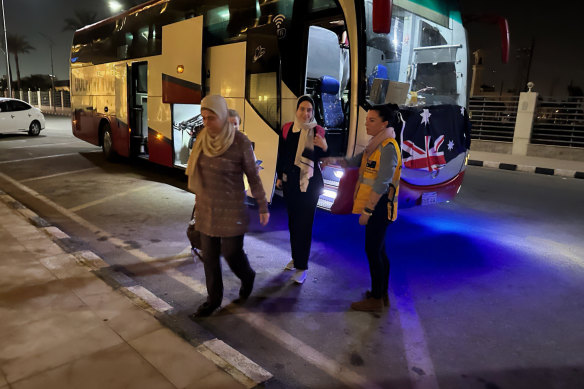 They were met by Australian embassy officials, who ushered them to air-conditioned coaches for the seven-hour trip to the capital Cairo.
"Excellent news. We made it to Egypt," an Adelaide man who had been stuck with his wife and children in Gaza, and does not want his identity known, told this masthead via email from the border.
They will be given medical attention in Cairo and flown home by the Australian government. Sixty-five of the Australian citizens, residents and visa holders who registered with the Department of Foreign Affairs and Trade remain in the war-ravaged territory.
Foreign Minister Penny Wong said officials continued to push for more Australians to be allowed to leave.
Dahalaan said he would only make the trip to Rafah again if he had guarantees his wife could cross with him.
"Otherwise it is very dangerous," he said.
His son, Shaher Dahlan, said he was told that either Egypt or Israel had stopped his father's wife from crossing the border. "She has a right of safe passage into Australia. But some foreign element has intervened and vetoed that order," he said.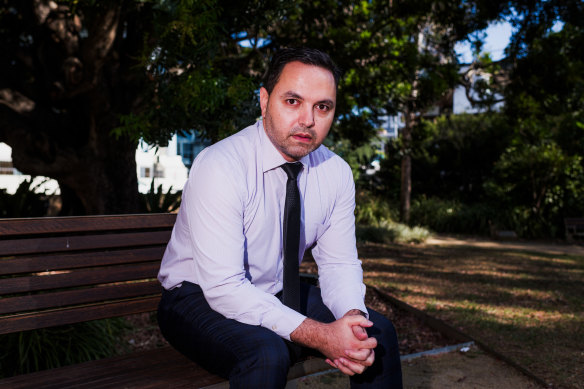 Ibrahim Elmobayed, whose mother Hanaa was trapped in Gaza when conflict broke out while she was visiting family, said the rush to get the Melbourne mum out at a moment's notice during the night "[were] some of the most stressful hours of our lives".
After being told 53-year-old Hanaa's name was on the list, Elmobayed had to wake her via Gaza's patchy internet and telephone services. She then had to rush to the border despite Israeli bombardments nearby.
When he was told his mother was safe in Cairo, he felt "sleepless, traumatised, grateful, happy, sad and terrible all at the same time … and relieved".
She was grateful to be out, but still "very fragile and very scared and still very shaken.
"But don't get me wrong, she's a strong woman."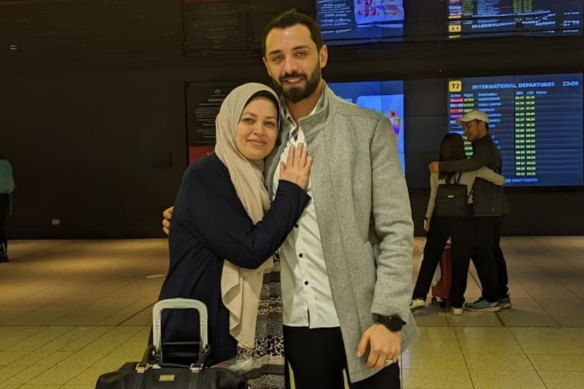 Hanaa's family home had been hit by an airstrike days earlier. "Mum was going to die. She had to get out of rubble. She had to see body parts."
Those who boarded the buses to Cairo also included Tasmanian intensive care doctor Justin Dalby, who had been working in Gaza for Medecins Sans Frontieres since April. He had been treating trauma and burns at makeshift clinics, despite dwindling supplies of painkillers and anaesthetics.
"He is in relatively good shape," said MSF Australia's managing director, Jennifer Tierney, while acknowledging the trauma all doctors in Gaza have experienced. "MSF has a team of people who are meeting [MSF workers], they've secured a safe and comfortable location for them to start to recover."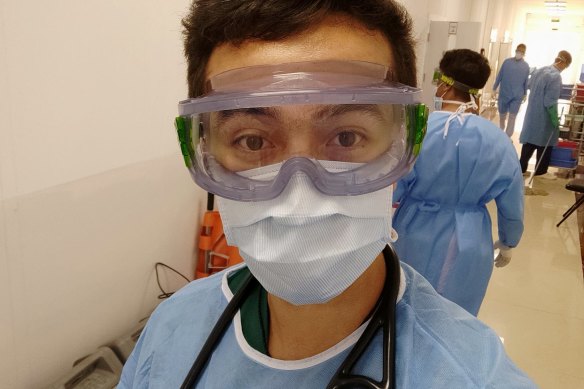 Two other Australian aid workers were also on the evacuation list; one is a delegate from the International Committee of the Red Cross, who has also worked in Iraq, and the other is a senior official at the United Nations Relief and Works Agency.
It is not confirmed whether they made it through the crossing.
Fadi Abukousa left Gaza to return to Australia in September, but his wife and two children, aged 10 and seven, stayed longer. They were trapped there when war broke out, leaving him terrified for their safety, but they were among those allowed to leave on Wednesday.
Another Sydney woman, Sara El-Masry – who recently described the situation in Gaza as "extremely scary … I see death in my eyes every single day" – also crossed into Egypt with her husband and two children, aged one and three.
The Adelaide family had been in the middle of a four-week trip to Gaza – their first in 12 years, inspired by what had seemed to be stable conditions – when bombs began raining on Gaza and fuel and food supplies were cut after militant group Hamas' brutal attack on Israel.
The father described the experience as "unimaginable"; they had to flee their relatives' home after nearby buildings were flattened and spent all but the last of their money on a car to head to the south, where they queued for hours for bread and used artesian bore water from the local mosque.
"The family remains extremely concerned for the lives of their loved ones in Gaza. They have left behind ill elderly parents, who have run out of essential medication," a statement issued on behalf of the family said.
"They have left behind siblings, nieces and nephews who are petrified and want a chance at a normal life in safety. They may never see their family again. Parting with them prior to crossing the border was distressing and something no family should have to endure."
Australia Palestine Advocacy Network president Nasser Mashni said other evacuees shared their fear about the relatives they left behind. "We've heard from those who have spoken to them that there's a real feeling of survivor guilt," he said.
"For every Australian that's made it out, they've left tens of blood relatives behind."
At a press conference on Thursday afternoon, Wong expressed relief and gratitude that the first cohort of Australians had been able to cross the border, saying she had heard children playing in the background when she had spoken to Australia's ambassador to Egypt, Axel Wabenhorst.
However, there was more to do. "There are still Australians in Gaza," she said. "I know how distressing this situation is for them and for the next of kin. Please be assured we will continue to press for all of you to cross the border out of Gaza."
The foreign minister said Israel had a right to defend itself and described Hamas as a "craven terrorist group", but said the way Israel defended itself mattered. "The international community will not accept ongoing civilian deaths," she said.
Immigration Minister Andrew Giles said he would not comment on the specifics of Abdallah Dahalaan's case, but he has begun making inquiries about it.
The border was due to open again on Thursday, but a list of eligible people published by Hamas' Ministry of Interior did not name any Australians. A government source, who asked not to be named, so they could speak freely, said hopes were high that more Australians would cross in coming days, and that numbers would increase to 1000 people per day.