By Courtney Gould
Prime Minister Anthony Albanese has declined to use one word when asked about the ongoing conflict between Israel and Hamas.
Anthony Albanese has stopped short of calling for a ceasefire in Israel's war on Hamas but says a pause is required to allow aid into Gaza.
The Prime Minister did not shift too far from previous rhetoric when asked at The Australian-Melbourne Institute Economic and Social Outlook conference if it was now time for a ceasefire.
But in the wake of an Israeli strike in a densely populated part of Gaza, Mr Albanese said the civilian toll is "quite rightly" causing enormous concern around the world.
"We said a week ago that there was a need for a pause for humanitarian concerns and that remains our position," Mr Albanese said.
He said Israel had an obligation to "do all it can to ensure that innocent civilians are not paying the price of Hamas' atrocities" and to consider broader consequences.
"It is critical as well that this war does not expand into other theatres; the consequences of that for Israel's security are dire," Mr Albanese added.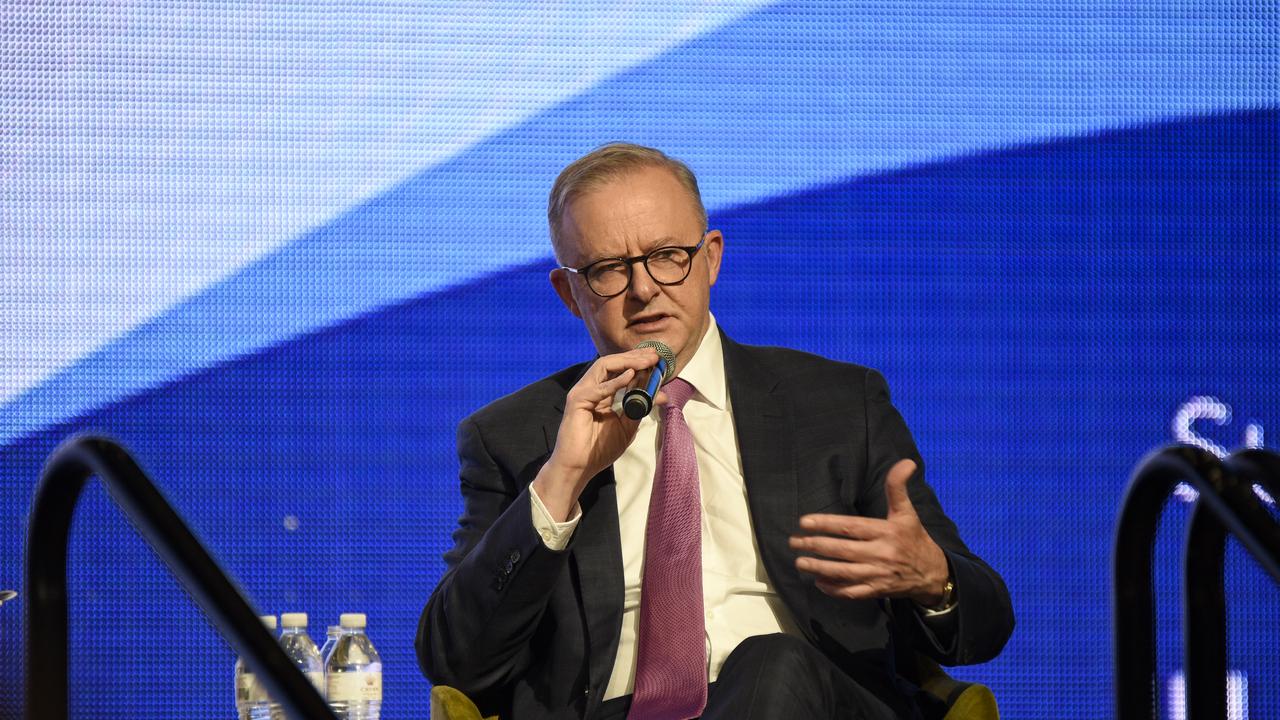 Mr Albanese stopped short of calling for a ceasefire. Picture: NCA NewsWire / Andrew Henshaw
"Israel needs to recognise that in the way that it conducts itself, because the images that have been seen of the (Jabalia) refugee camp, quite rightly, will cause an enormous, enormous concern around the world."
Hamas's cross-border assault on October 7 killed at least 1400 people and 240 people were taken hostage.
Israel has since closed the borders to the territory, launched a ground assault and the continued bombardment has killed at least 8700 people.
Mr Albanese said he understood Hamas operations within civilian infrastructure made the Israeli operation difficult but "every effort" needed to be made to protect civilian life.
His comments come just hours after US President Joe Biden called on Israel to pause fighting for humanitarian aid during a campaign event in Minneapolis.
After weeks of waiting to secure a phone hook up, Mr Albanese spoke with his Israeli counterpart Benjamin Netanyahu on Wednesday.
The call came ahead of the confirmation that 20 Australians, as well as two family members and a permanent resident, had escaped from the besieged territory.
The brief reopening of the Rafah crossing occurred after a deal was brokered by Qatar between Israel, Hamas and Egypt.
Rafah is the sole border crossing between Gaza and Egypt and is the only Gaza border crossing that isn't controlled by Israel.
Around 350 foreign passport holders were granted permission to leave Gaza for the first time since the Israel-Hamas conflict began.
Foreign Minister Penny Wong confirmed the group of 23 had been met by Australian consular officials who assisted with onward travel to Cairo. Travel arrangements are being made for them to get home free of charge.
"Just a short while ago, I spoke to Australia's ambassador to Egypt, Dr Axel Wabenhorst. It was about 4am in Cairo and I can tell you I was speaking to him and I could hear children in the background and I said to him 'are they our kids' and he said 'yes – some of the Australian children who made it to Cairo today,'" she told reporters in Adelaide.
"They had a seven-hour journey which is obviously pretty tiring. I asked about the health of all of the Australians.
"He said that people seemed in good health and were relieved but we are ensuring anyone who needs medical attention will receive it."
A further 65 people, a mix of Australian citizens, permanent residents and their family members who are registered with the Department of Foreign Affairs and Trade, remain in Gaza.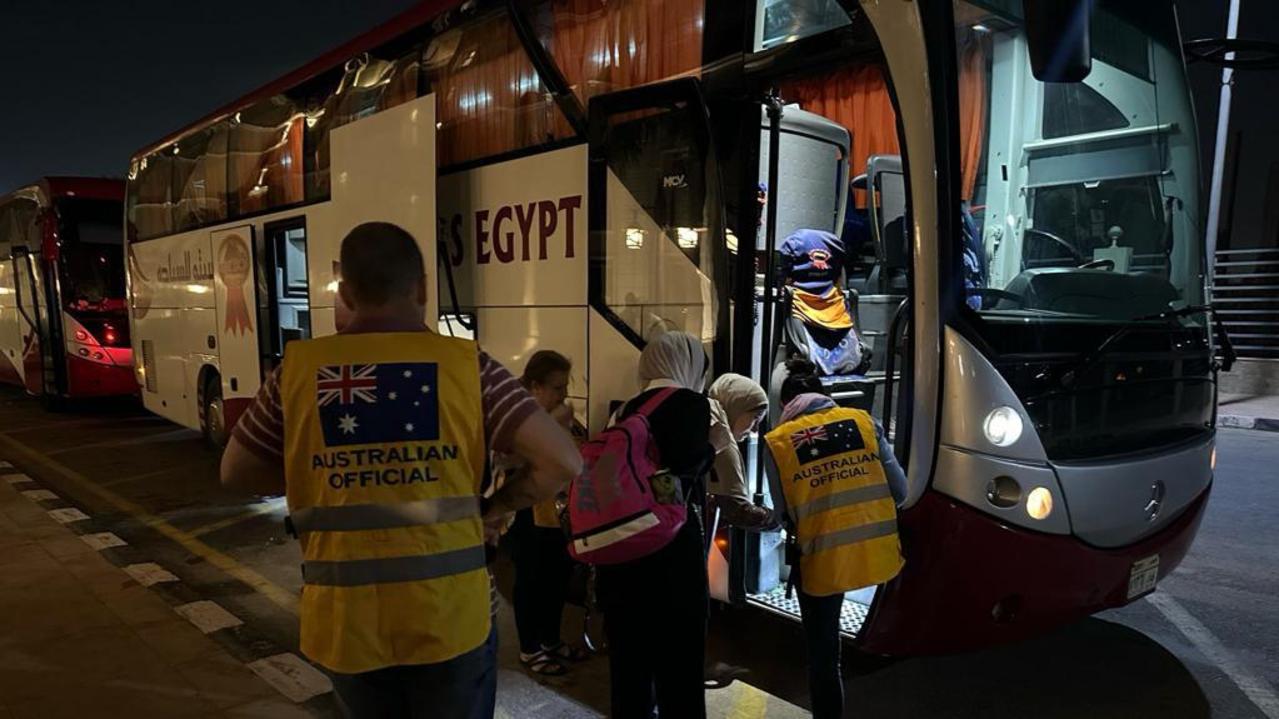 Australian consular officials were standing by to assist with onward travel to Cairo. Picture: DFAT via NCA NewsWire
The head of the Australia Palestine Advocacy Network Nasser Mashni said there is "very little hope" for people in Gaza.
"We believe 60 Australians are still left in Gaza. But there are over two million Palestinians that are held in what can only be described as a slaughterhouse," he told Sunrise.
"Those Palestinians without Western passports, they can't get out."
Meanwhile, more than 15,000 Australians remain in nearby Lebanon despite repeated warnings from the government for them to leave amid fears the war could spiral into a wider regional conflict.
There are currently no plans for repatriation flights from Lebanon and Assisurged people to leave via commercial options available.
"Our strong advice to Australians in Lebanon is to take the option to leave now," Mr Watts said
"We can't make any guarantees that Beirut airport will remain open if the conflict spreads to the south of Lebanon and departure options become much more complex."
Originally published as Anthony Albanese stops short of calling for ceasefire, reiterates call for 'pause'