By Rob Harris
Prime Minister Scott Morrison has promised an international forum on anti-Semitism that the Australian government will formally endorse an international working definition of discrimination against Jews as a religious or racial group.
In a pre-recorded message from Canberra, Mr Morrison told the Malmö International Forum on Wednesday evening that his government would embrace the International Holocaust Remembrance Alliance's working definition, joining more than 40 nations and hundreds of local governments, sporting organisations, institutions and universities around the world.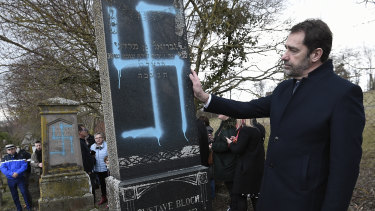 But critics of the definition, including the Palestinian movement and human rights groups, have warned it could be used to stifle legitimate debate about the Israeli government and threatens freedom of speech.
Mr Morrison said Australia would adopt the definition "as a people, and as a nation".
"Anti-Semitism has no place in Australia," Mr Morrison told the forum. "It has no place anywhere in the world. And we must work together, resolutely and as a global community to reject any word or any act that supports anti-Semitism towards individuals, towards communities or religious facilities."
The IHRA – an intergovernmental body made up of 31 member countries – defines anti-Semitism as "a certain perception of Jews, which may be expressed as hatred toward Jews. Rhetorical and physical manifestations of anti-Semitism are directed toward Jewish or non-Jewish individuals and/or their property, toward Jewish community institutions and religious facilities".
The non-legally binding definition is also supported by 11 contemporary examples of anti-Semitism designed as a resource to help educate people as to what anti-Semitism is, and what is legitimate criticism of Israel.
It has been used by law enforcement around the world to train police to understand when a crime might have an anti-Semitic motive and by universities and schools to identify and intervene against anti-Semitism. Jewish groups also want it to help social media companies to better moderate anti-Semitism on their platforms.
Dvir Abramovich, chairman of the Anti-Defamation League, said it was a historic day in the fight against "the world's oldest hatred".
"This is another defeat for Hitler and his modern-day guards of Auschwitz – the Australian neo-Nazis in our midst," he said. "In a climate of escalating anti-Jewish bigotry in our nation, it is not only warranted but needed."
Zionist Federation of Australia president Jeremy Leibler said anti-Semitism was increasing around the world and education was key to its reduction.
"The IHRA working definition provides the central plank to this educational endeavour. Anti-Semitism should have no place in our society. It should be defined, identified and rejected."
But the definition has its critics, who express concerns it restricts freedom of speech by prohibiting legitimate criticism of Israeli government action in the Palestinian territories. They argue the language is open to interpretation and invites a conflation of the criticism of Israel with anti-Semitism.
Legal experts, including prominent human rights barrister Geoffrey Robertson and the definition's lead drafter Kenneth Stern, have raised concerns that the definition was being used to police speech.
Bishop George Browning, the president of the Australia Palestine Advocacy Network, said the organisation was "deeply concerned" about the Prime Minister's announcement, believing it would muddy the water between legitimate criticism of Israel and anti-Semitism.
"Adopting particular definitions of any sort of racism is unnecessary and in this case, dangerous.
"It has been used to shut down legitimate advocacy for Palestine in other places in the world, and we must not allow this to happen in Australia," he said.
The Australian Jewish Democratic Society has also raised concerns about how the definition is used, warning there are Jewish institutions and groups, both inside Israel and globally, who are committed to tackling anti-Semitism and are highly critical of Israel's treatment of Palestinians, historically and today.
The definition spells out that it is not anti-Semitic to criticise the government of Israel, but says it is anti-Semitic to draw comparisons of contemporary Israeli policy to that of the Nazis and also holding Jews collectively responsible for the actions of Israel.
It also includes traditional stereotypes such as regarding Jews having inordinate power over media, financial systems or governments and or denying Jews the right to self-determination.
Federal Education Minister Alan Tudge last month called on the government to adopt the definition amid a rise of violence and threats toward Australian Jews on university campuses and in the community. He said Jewish students had reported being prevented from joining some clubs, particularly progressive ones such as an LGBTI club because Zionism was said to be contrary to the club's mission.
The British government was among the first to adopt the working definition in 2016 while the United States, Canada, Germany and South Korea have also followed. United Nations Secretary General Antonio Guterres has publicly supported the definition as well as the European Union and the English Premier League.
Labor leader Anthony Albanese and foreign affairs spokeswoman Penny Wong endorsed the definition on behalf of their party in discussions with Jewish community leaders last year.