By Deborah Snow
In early 1984 I was one of a party of journalists that travelled with then Labor foreign minister Bill Hayden through the Middle East. A reminder of that trip surfaced last weekend – only a few days after Hayden's death – when I found an old report filed by telex (the only technology then available) from Damascus, outlining Hayden's hopes and fears for the stalling Middle East peace process.
In summary, I'd reported, he'd set off with mild optimism, but was returning with his hopes "severely dented". (Australia then had – and continues to have – a small contingent posted to a multinational peacekeeping force in the Sinai.)
Hayden was an activist foreign minister who sought out key players in Syria, Jordan, Israel and Egypt believing that an Australian perspective brought something useful to the table. In the decades since, many of the most significant figures have come and gone, and the pieces shuffled about many times.
But the sequence of events triggered by Hamas' barbaric October 7 attacks on Israeli civilians including infants and the elderly, and subsequent carnage in Gaza as a result of Israel's military response, is setting a new test for Labor in government.
For the federal opposition, coordinating a reaction to the outrage triggered by the Hamas terror attacks has been relatively straightforward.
The pro-Israeli view has a pronounced upper hand among Coalition MPs – strengthened in recent years by the actions of Scott Morrison who delighted the Netanyahu government with a decision (since reversed by the Albanese government) to recognise West Jerusalem as Israel's capital.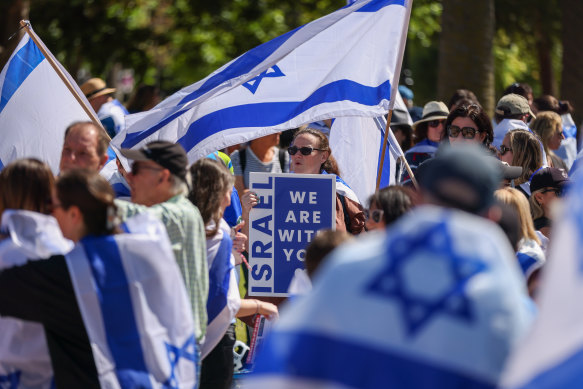 But inside Labor, calibrating a unified response to the growing conflagration is proving more fraught.
Tensions between those whose sympathies align more with the Palestinian side, and those who remain staunchly supportive of the Jewish state, are bubbling to the surface.
Rival networks of influence are working overtime through two groups in the federal parliament, the parliamentary friends of Palestine and the parliamentary friends of Israel. (The conveners of these groups are public, but their memberships are confidential.)
Historically, pro-Israeli, pro-Zionist sentiment on the Middle East had more traction inside Labor than it does today.