By Patrick Hannaford
An Adelaide businesswoman who wore a "free Palestine" protest dress to Flemington Racecourse has ignited divisions in the community, with Jewish groups slamming her as a "clueless" attention-seeker and Palestinian advocates praising her "courageous" stance.
A businesswoman who wore a "Free Palestine" dress to the Victorian Racing Carnival has been both slammed as a "clueless" attention seeker and praised as "courageous".
Angelica Mesisca Barrientos caused an uproar in Flemington's famous Birdcage on Saturday when she attended Derby Day wearing a black dress emblazoned with quotes "free Palestine", "where is humanity" and "ceasefire" in bold white writing.
The Adelaide skin care clinic founder added to her message in an Instagram post on Monday, sharing photos of her dress alongside calls for an immediate ceasefire in the Israel-Hamas conflict.
"There is no honour in silently witnessing a genocide," she said, before tagging Prime Minister Anthony Albanese, Foreign Minister Penny Wong, and South Australian Premier Peter Malinauskas.
"This is not a statement of antisemitism, nor support for terrorism. This is a reminder of our shared humanity – a call to stop the indiscriminate killing of innocent people. Ceasefire now!"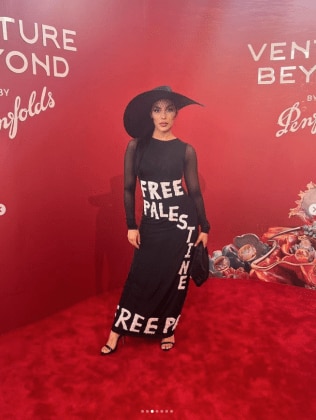 Jewish Groups slammed Angelica Mesisca Barrientos as "clueless" after she wore a "free Palestine" protest dress to Victorian Derby Day. Picture: Instagram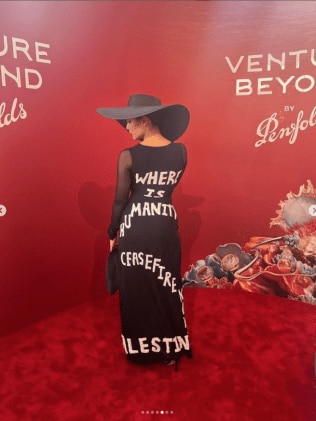 A Palestinian advocacy group described Angelica Mesisca Barrientos's dress as a "courageous appeal to our shared humanity". Picture: Instagram
A spokesman for the Australian Palestine Advocacy Network commended Ms Barrientos for her actions, with APAN President Nasser Mashni describing the dress as "a courageous appeal to our shared humanity – a call for us to come together, stop the killing and find a path towards peace and justice for Palestine".
However, Jewish groups slammed the businesswoman for being an "attention-seeker".
"It's hard to believe that a businesswoman could be so clueless," Australian Jewish Association CEO Robert Gregory said in a statement to SkyNews.com.au.
"The claim that Israel is attempting a genocide is ludicrous. If they were, it would be the least successful genocide in history since Gaza's population is growing more rapidly than almost anywhere else.
"Unsurprisingly this attention-seeker is silent on the fate of the 1,400 murdered Jews and the 240 kidnapped hostages, including babies and the elderly."
The skincare clinic wore her protest dress to Derby Day on Saturday. Picture: Supplied
Conflict erupted between Israel and Hamas on October 7, when the Gaza-based terrorist group launched an unprecedented and bloody attack on Israel, targeting civilians of all ages in the largest massacre of Jews since the Holocaust.
In response to the attacks, Israeli Prime Minister Benjamin Netanyahu has vowed to "crush and eliminate" Hamas, with the country's defence forces launching a ground invasion into northern Gaza.
According to Mr Gregory, people who call for a ceasefire between Israel and an "evil" group that is "akin to the Nazis" demonstrate that they "lack moral character".
"Israel must eliminate the Hamas terrorist organisation and Australians should support this important goal," he said.
In a statement to the Herald Sun, Ms Barrientos said she knew her protest dress would be controversial but she wanted to raise awareness about what was happening in Palestine.
"I thought what better place to raise awareness about this issue, and speak up, than the Melbourne Cup. I knew it would be controversial, but for me, I can either be silent and complicit with what's going on, or I can speak out against it," she said.
The skincare clinic founder said she received praise for her outfit from other racegoers in Flemington's Birdcage, however the dress has also led to calls for the VRC to ban politically-charged attire.
"We would urge race organisers to consider whether it is appropriate for political messages to be prominently displayed by racegoers," said David Aghion, President of the Jewish Community Council of Victoria.
"Highly visible political protests like this alienate other racegoers and create a highly charged, culturally unsafe environment, especially at this time,"
The VRC currently has rules prohibiting clothing with messages that are deliberately offensive or designed to disrupt the event, as well as slogans supporting banned groups.
The current rules do not capture political statements like Ms Barrientos's "Free Palestine" dress, and according to the APAN president a ban on clothing with political messages would be an unacceptable attack on free speech.
"We should all be alarmed at calls for freedom of expression to be banned and people silenced over their public objections to the murder of innocent civilians, or their vocal solidarity with the Palestinian struggle for life, rights and justice," Mr Mashni said in a statement to SkyNews.com.au.
"Freedom of expression is more important than ever right now – the lives of two million Palestinian people depend upon us speaking up, demanding a ceasefire and ending the genocide."