By Jack Quail
As the conflict between Israel and Hamas deepens, thousands of protesters have gathered in Sydney and Melbourne on Sunday.
Palestinian and Israeli supporters have congregated in their thousands in Sydney and Melbourne on Sunday after Tel Aviv declared the "second stage" of its war with Hamas, commencing a long-threatened ground offensive that took them into the Gaza Strip on Saturday.
In Sydney, members of the Jewish community have organised a rally in solidarity with the people of Israel, bringing to attention the plight of the estimated 200 people, including 30 teenagers and young children and 20 people over the age of 60, who are being held hostage by militant group Hamas in Gaza.
Organisers of the pro-Israeli "Bring them home" rally held in Martin Place on Sunday morning, arranged empty prams alongside empty shoes to represent the children and adults taken hostage.
Protestors subsequently marched to Circular Quay, where the demonstration concluded with a song and prayer on the Museum of Contemporary Art's eastern forecourt.
Empty shoes and empty prams signified the children and adults taken hostage by militant group Hamas. Picture: NCA NewsWire / Gaye Gerard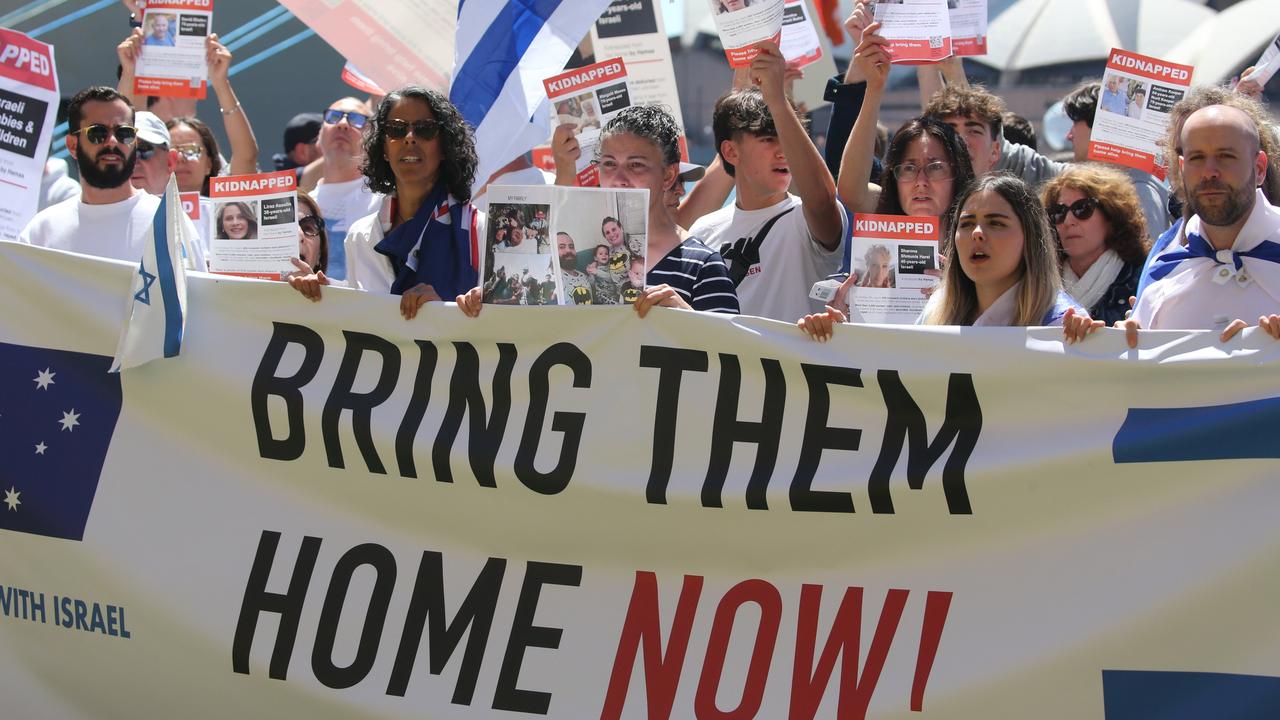 Thousands of protesters assembled in the Sydney CBD in solidarity with Israel before marching to Circular Quay. Picture: NCA NewsWire / Gaye Gerard
Addressing the crowd, protest organiser Avi Efrat said the Australian Jewish community would not be cowed by the escalating conflict.
"The reason we are doing [this] in the city is to give back confidence to the Jewish community in Australia and in Sydney," he told the crowd.
"Some of our community is scared to even go out. I have an answer to these people: not under this generation. This generation is a different generation. We will not be scared, we will come here and say what we have to say."
A similar pro-Israeli demonstration also occurred in Melbourne on Sunday, with protesters set to gather in Caulfield Park to call for the release of Israeli hostages.
Separately, pro-Palestinian supporters have gathered outside Melbourne's State Library for the third week in a row.
Holding signs and waving flags, demonstrators chanted "free Palestine" and demanded an immediate ceasefire to safeguard the two million citizens ensnared in the Gaza strip.
Speaking before the crowd, Australia Palestine Advocacy Network president Nasser Mashni, said history would "judge" this moment.
"We're taking receipts and we won't forget it," he said.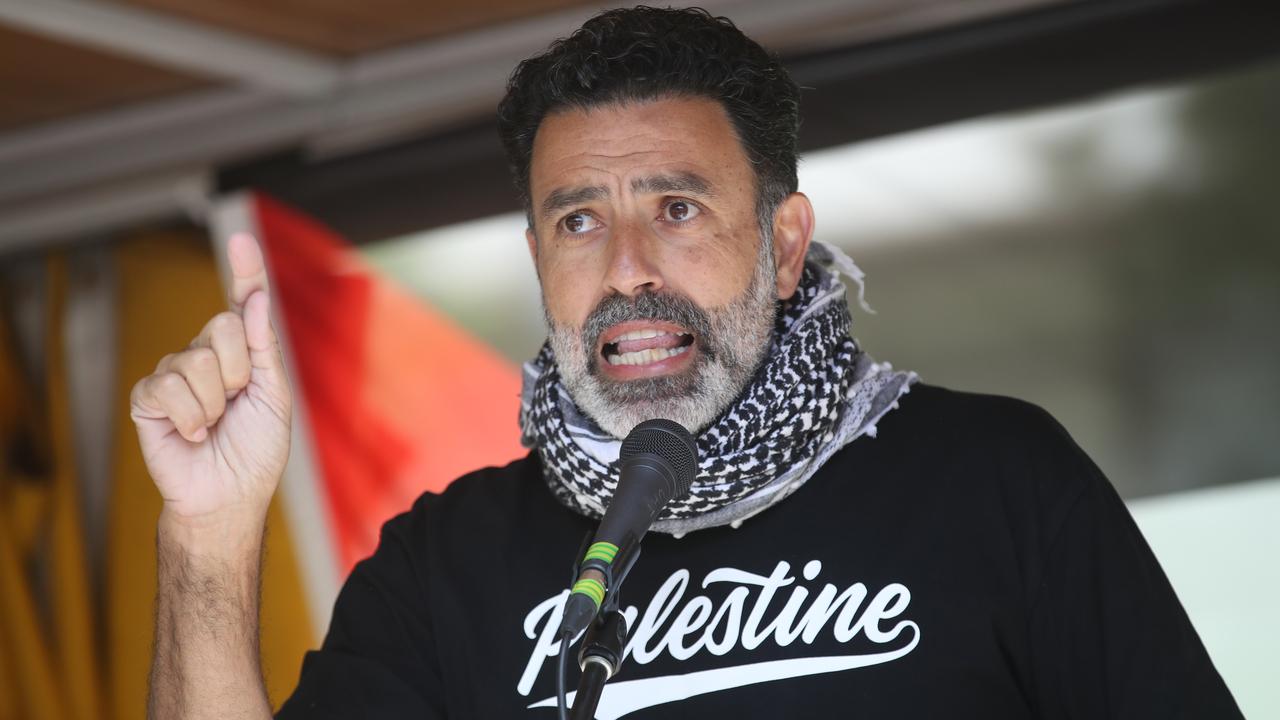 Australia Palestine Advocacy Network president Nasser Mashni said history would "judge" this moment. Picture: NCA NewsWire / David Crosling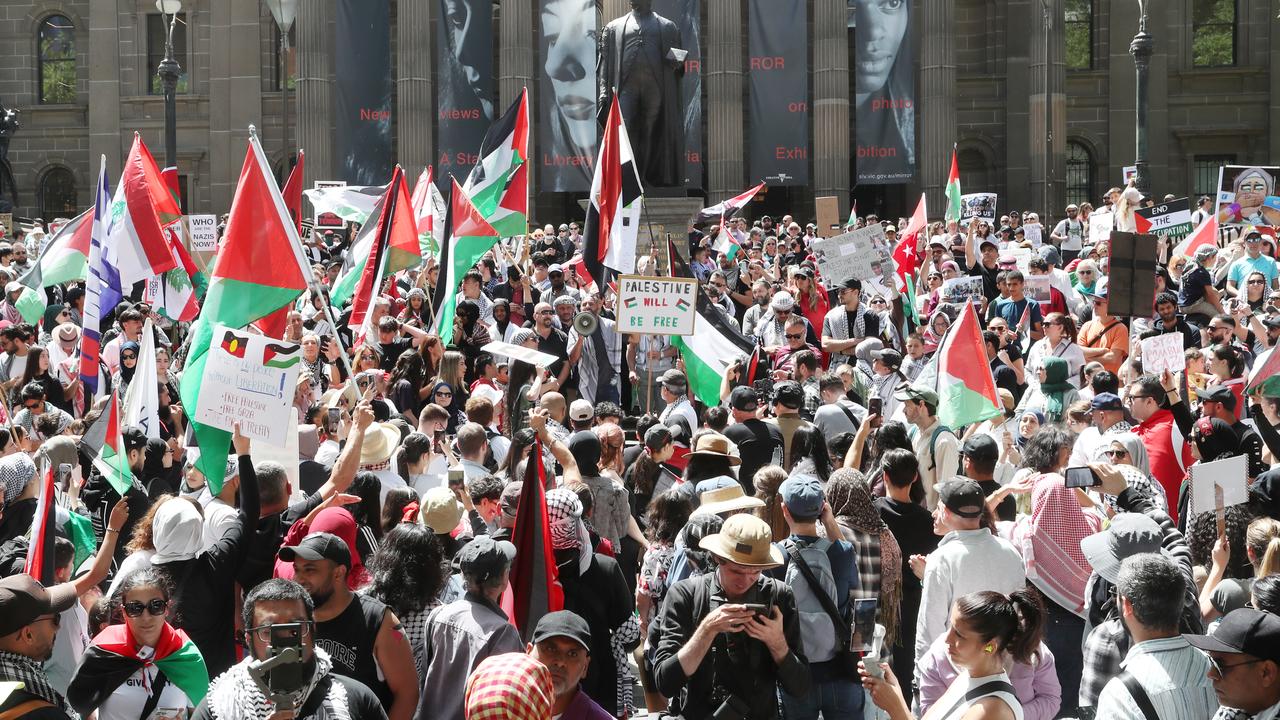 Thousands gathered outside the Victorian State Library in a show of solidarity with the two million civilians trapped in Gaza. Picture: NCA NewsWire / David Crosling
Later on Sunday, thousands are anticipated to attend a rally in support of Palestine held in Sydney's Hyde Park from 2pm on Sunday.
Hosted by the Sydney arm of the Palestine Action Group, organisers expect to top attendance numbers for a protest it held last weekend. The group claimed some 30,000 people attended in opposition to the government's support for Israel.
"The Australian government continues to give full support to Israel's war crimes, even sending troops to the Middle East to act as Israel's protector," the rally's organisers said in a statement on Facebook.
"End the Australian government's support for apartheid Israel and its war crimes against the Palestinians!"
More than 1000 police officers are expected to be present at the demonstrations in Sydney to ensure the safety of protesters.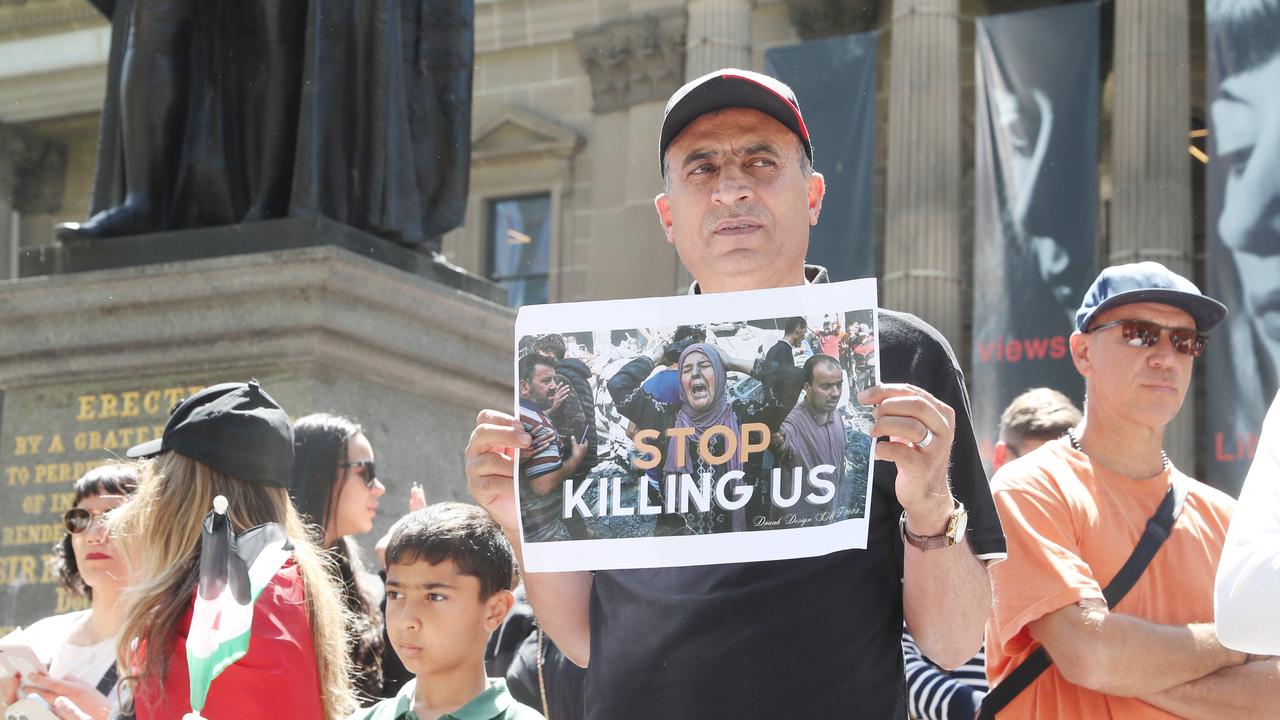 Protesters in Melbourne called for an immediate ceasefire to protect safeguard the two million citizens ensnared in the Gaza strip. Picture: NCA NewsWire / David Crosling
The Australian government has supported Israel's right to defend itself after the bloody incursion by Hamas in Israel that killed 1,400 people on October 7.
In Gaza, the death toll has climbed to 7,650, according to the Palestinian health ministry, since Israeli air strikes began three weeks ago.
Speaking on Sky News on Sunday, Opposition Leader Peter Dutton condemned the pro-Palestinian protests held earlier this month where some participants shouted anti-Semitic chants.
Mr Dutton claimed similar events could rubbish Australia's international standing.
"Nobody wants to see a loss of life in the Middle East or anywhere else, nobody will tolerate discrimination against any Australian regardless of their religious faith or their background," Mr Dutton said.
"The scenes we saw at the Sydney Opera House, where people were cheering the slaughter of Israelis by Hamas terrorists, they're scenes that don't belong in our country otherwise."
Speaking at a press conference in Tel Aviv on Saturday, Israeli Prime Minister Benjamin Netanyahu vowed to "destroy the enemy above ground and below ground."
Warning that the war would be "long and hard", Netanyahu reiterated his appeal for Palestinian civilians to evacuate to the south of the Gaza Strip, however air strikes have plunged the besieged enclave into communications blackout.
"This is the second stage of the war whose goals are clear — to destroy Hamas' governing and military capabilities and to bring the hostages home," Netanyahu told reporters.